Trivia & Mistakes:
---
Have any to add? Send them to ladyvignette@juno.com!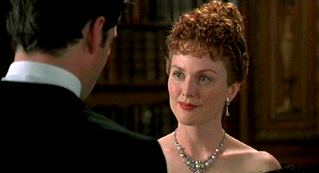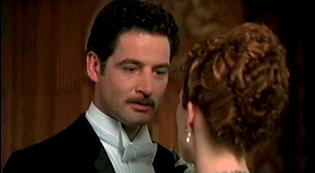 Obvious Mistakes:
Place: The Office Scene
When Laura is speaking to Sir Robert about the canal scheme, he walks over to her and inquires, "Who would tell you to do such a foolish thing?" In the scene facing her, she is about two feet from him. However, in the shot focusing on Jeremy Northam, he is much, much closer. As there is no romantic relationship between the two, who have only just met, this is an obvious mistake. Sir Robert would never stand intentionally that close to any woman save his wife.
Trivia & Fun Facts:
The play attended by the characters in the film is a stage adaptation of Oscar Wilde's The Importance of Being Earnest. The older man who addresses the audience from the stage at the end represents Wilde, who did address the audience when his play first debuted.
Other Wilde/Earnest tie-ins can be found throughout the film, including:
* A couple are announced at the political party as "Lord and Lady Windemere," which is a reference to another Wilde play, "Lady Windermere's Fan."
* At Lord Goring's club, a character cries out, "Come now, Brunby!" "Brunby" is the imaginary sick friend invented by a character in The Importance of Being Earnest as his excuse to visit the country.
An interesting thing to note as said by Jeremy Northam on the commentary on The Winslow Boy is that many executive scenes were filmed in the same building as those of An Ideal Husband. Parliament's seating had him in the same place as his role as Sir Robert Morton in The Winslow Boy. The outer-Parliament scenes were also filmed in the same building -- merely at the other end of the hall. For Emma fans, Sir Robert's office in The Winslow Boy was filmed in the library at "Hartfield."
---